Mike Herman - medical director, DVM
Dr. Mike Herman is a native of Albuquerque, New Mexico. He graduated from Colorado State University in 1991, and fell in love with Colorado. He has worked at Belcaro Animal Hospital his entire career. He now lives in Mayfair with his wife, two daughters, and menagerie of pets. He loves all animals, but especially enjoys working with Colorado Greyhound Adoption. In his free time he enjoys scuba diving and photography. He calls Denver home, but he loves European soccer.
Contact Dr. Herman here: [email protected]
---
Anna Otero, DVM
Dr. Anna Otero is a Colorado native who attended Colorado State University. She graduated in 1993 from the veterinary program, worked as a relief vet in Denver for a year, then joined Belcaro Animal Hospital in 1994. She has been providing veterinary care for the Commerce City Police K-9 Unit since 2000. Anna's days off are usually spent enjoying the company of her husband, riding her motorcycle, doing arts and crafts, or playing with her three dogs.
---
Alena Strnadová, DVM
Dr. Alena Strnadová (aka Dr. Dova) is a 2021 graduate of Colorado State University and joined Belcaro in the summer of 2021. She has special interests in ophthalmology, dentistry, and exotic medicine. Originally from the Czech Republic, Dr. Dova grew up in Las Cruces, New Mexico before playing soccer for the University of Memphis. She enjoys playing sports, hiking with her dog Adele, cooking, and traveling with loved ones.
---
Paul Bechtold - medical director, DVM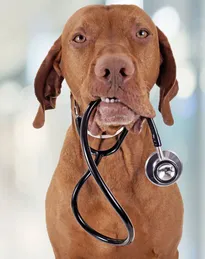 Dr. Paul Bechtold graduated from Colorado State University in 1987. He has two wonderful dogs at home, Mouse and Mona, as well as three inquisitive cats.
---
Cynthia Sweet, DVM
Dr. Cynthia Sweet is a native of Wisconsin and a 2016 graduate from University of Wisconsin. She spent 4 years working at a small animal private practice just south of Madison before moving to Denver in June 2020. She loves to hike and bike and is a big Wisconsin sports fan (go Pack go!). She has a 7 year old (but acts like 1 year old) chocolate lab named Lambeau, a new puppy golden retriever named Moose, and a 1 year old cat named Simba.
Contact Dr. Sweet Here: [email protected]
---
Cary Edwards, DVM
Dr. Cary Edwards graduated from Virginia-Maryland Regional College of Veterinary Medicine. She has the worlds sweetest Cavalier King Charles Spaniel, "Honey".