Blasom Lucero - Veterinary Technician
Blasom Lucero has been a Veterinary Technician at Belcaro Animal Hospital since 2006; after graduating from Penn State with a Certificate in Veterinary Assistance. Blasom enjoys furthering her education on the behalf of the well being and health of animals. She is also the proud parent of three dogs: Jelly Bean, Kaos, and Layla.
---
Breanna Zotto- Veterinary technician

Breanna graduated from PIMA Medical Institute in June of 2014. She has worked at Belcaro for over 5 years. She is the proud mother of April (dog), Lucy (dog), Ashes (cat), Boots (cat), Hunter (cat), and Marina (human). They are her world! She loves working as a veterinary technician and she enjoys learning new things everyday.
---
Ginger Burchyett - practice manager, C.V.T.
Ginger has been a Certified Veterinary Technician since 2004. She has worked at Belcaro for a total of 11 years. Ginger has been happily married to her husband, Jay, since 2005. They enjoy camping and hiking in the summer and skiing in the winter. They are proud parents of 2 shepherd mixes; Chewy and Laya and two cats: Rey and Finn.
---
Ashley Benjamin - Assistant Practice Manager, V.T.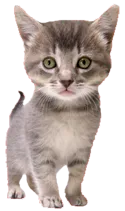 Ashley has been working for Belcaro since October of 2017. She has an immense love for animals, with a degree in zoo-keeping, She currently has three cats named Sir Pounce, Dobby, and Millicent as well as two dogs: Rogue an Koa. Nurturing sick animals is her favorite part of working for Belcaro.
---
Nicolas Kaleda - Veterinary Technician
Nick started with Belcaro in October of 2018. He really enjoys all the new knowledge he gained while working here at Belcaro. A Colorado native, he enjoys everything that comes with the Colorado lifestyle. He is the proud owner of two dogs; Korben and Copper.
---
Karly Lawniczak - Veterinary Technician
Karly joined our team in November 2018. Originally from Michigan, she moved to Denver with her sister to start a new life. She is the loving owner of three cats; Salai, Dorian Gray, and Theodore. She enjoys reading but enjoys the company of her cats more.
---
Keith Cisneros - Veterinary Assistant

Keith joined our team in December 2019. He is the proud parent of three dogs and a cat. In his spare time he enjoys shopping for Eyelashes, Dresses, Make-up, Shoes, and Wigs.
---
Frankie Palmero - Veterinary Assistant

Frankie joined the Belcaro team in June of 2020 after moving from South Florida. He is a proud dog dad of two Border Collie mixes; Cheza and Kiba. In his free time he enjoys writing and recording music.
---
Ely Segoviano - Veterinary Receptionist
Ely joined the Belcaro team in August of 2020 after relocating from sunny Palm Springs, California. She and her husband are the proud parents of three adorable pups: Beethoven, Julieta & Violeta. In her spare time she enjoys hiking, snowboarding, and traveling.
---
Gabbie Bates - Veterinary Receptionist
Gabbie joined our clinic in August of 2020 after moving from Omaha, Nebraska. She came with 4+ years of working closely with animals. Gabbie spends her free time grooming dogs, skiing, and taking care of her plethora of plants. She is mom to 3 dogs; Wynn, Granby, and Princess; and 3 chickens; Bonnie Roo, Tina, and Lemon Pepper.

---
Joslynne Jones - Veterinary Receptionist, Veterinary Assistant
Joslynne joined our team in 2022. Joslynne went to Bel-Rea Institute of Veterinary Technology and graduated with her associate's in veterinary technology. She spends her free time shoe shopping for Jordan's, reading and exploring new places. She has a cat named Fatty who she's spent most of her childhood with.
---
Madison Harvey - Veterinary Assistant

Madison joined our team in fall of 2022 and is currently enrolled in Community College of Denver's veterinary technician program. She spends her free time hiking, skiing, and loves going for runs and walks, and just being in the outdoors in general! She is a mom to a 2 year old miniature labradoodle named Hazel.
---
Killion Monhan - Veterinary Assistant
---
Victoria Kubler - Veterinary Assistant

---
Sky Salvador - Veterinary Assistant
Sky has been in the veterinary field for almost 4 years now and has had a lot of practice with all kinds of animals, small and large. She has 5 dogs; Trippie, Scrappy, Molly, Thumper, and Tino. She also has 10 cats; Pickles, Rocket, Temmy, Oryo, Smokey, Pasha, Baby, Cutie, Pepper, and Chili. She's in Tech school now and is wanting to continue her career and become a veterinarian.
---
In fond Memory of:

Eric Stevens- passed away in 2015
Eric Stevens worked as a veterinary assistant at Belcaro Animal Hospital for 20 years. He was an integral part of the Belcaro family and is greatly missed.